Well, as you might have inferred from my lack of posting over the last (oh my) two months, I have been crazy busy. I think I have also been crazy tired, meaning that coming home meant schlumping around rather than whipping up tasty treats and posting them here! I have been feverishly working on finishing my Masters, as well as scrambling at work getting a couple big projects underway. All to say, sorry for the unbelievably long absence. I wanted to come back with something INSANE and PUNCHY, but this is a subdued, yet delicious recipe. I have some punchier things in the wings, so no fear. But let's ease back into this.
I've missed NotCrocker, and I felt so terrible about my terribleness that I haven't even been to the blog myself much in the last month or so. Avoidance is a bizarre strategy for coping, so here I am, posting and coming back, and making whatever promises I can that I will not run away again! Work is going to keep going like mad through the next two months, and my paper is top-priority in my off time, but NotCrocker will not fall by the wayside again. I love posting great dishes, and will continue to do so. Who needs to sleep?! Not this lady!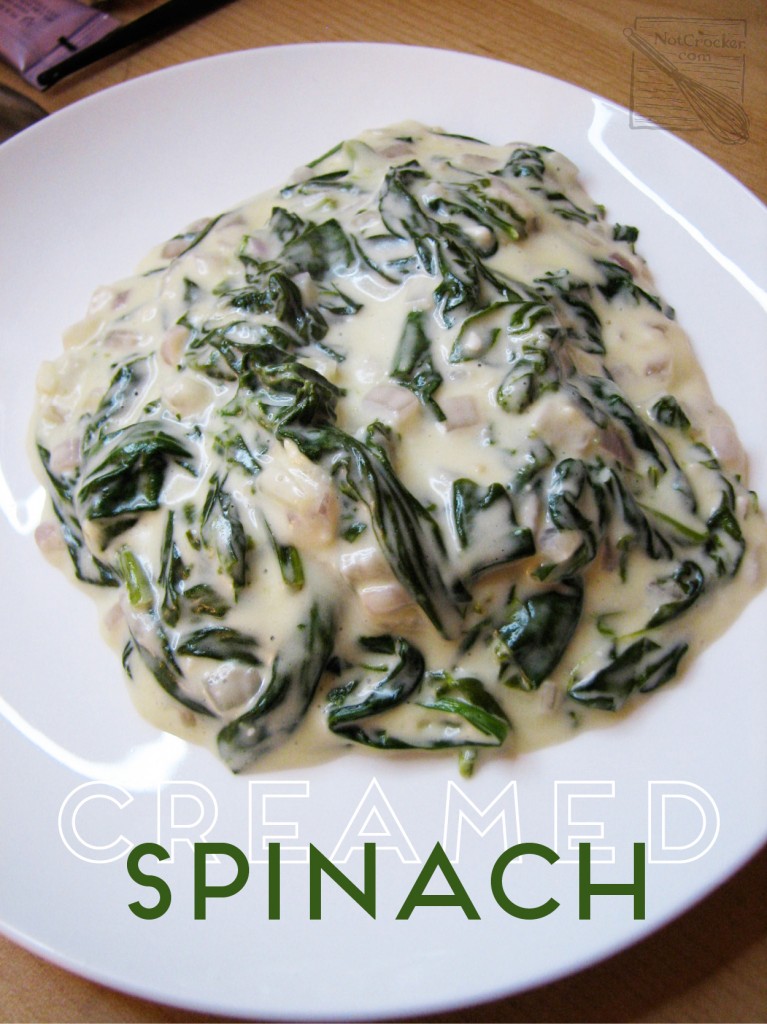 So here we have creamed spinach. A simple dish that had terrified me in the past. It looked so… blah. I mean, I love spinach, and I love cream, but putting them together over heat just never ruffled my feathers. Well, this is feather-ruffling good. It is a rich side dish that is easy to make up, heats well the next day, and adds some spinachy nutrients to a spinach-less plate. This can be made with frozen spinach, make sure to thaw and squeeze the water out, but I had fresh on hand and I like being able to control the texture better.
Easy Creamed Spinach
INGREDIENTS
6-8 cups of fresh baby spinach, washed and drained (2- 10oz packages of frozen spinach, chopped, thawed, and drained)

1/4 cup butter

3 cloves garlic, diced

1 medium red onion, finely diced
salt and pepper to taste
1/2 cup Parmesan cheese, shredded
2oz of cream cheese
1 cup whipping cream
DIRECTIONS
In a large pot, wilt the spinach with 1/4 cup of water over medium-low heat. Cook, stirring often until all the leaves are just wilted, and are bright green. Drain and set aside.
In a large pan, melt the butter. Add the diced onions and garlic and cook over medium heat until fragrant and the onions become translucent, about 3 minutes. Sprinkle with salt and pepper.
Add the cream cheese and Parmesan, stir to melt and combine. Stir in the cream and cook over medium heat for 5 minutes until slightly thickened.
Add the spinach and stir to coat. Let cook for a few minutes to mingle the flavours, feel free to cook longer for desired spinach texture.
Serve hot, sprinkle with nutmeg for a little something extra.