Oh goodness, it has been a long time since I've posted! Not for lack of baking, it's been a busy baking season, so I have loads of posts coming up. I love the Christmas season, I've had a lot of stuff going on, including going to the Stuart McLean Christmas show last weekend, which was absolutely lovely. At work we've implemented an awesome Christmas Calendar of fun. Last week I was responsible for Cookie Wednesday, my offerings are pictured below the recipe (the other cookies and bars picture will come up later this week) and on friday, Kat and Kathryn brought in hot chocolate and Baileys which made for an indulgent morning. To add to my Christmas joy, we had a Christmas/winter-themed trivia night with the NFB-Bads at Teri and Brian's apartment which was incredibly fun. And finally, to make the week full of joy, Karen, Kat and myself lunched at the Vancouver Christmas Market, which is a German market. Awesome!
Also, I rearranged our tiny little living room to accommodate the Christmas tree, and it makes the space look huge! Huzzah!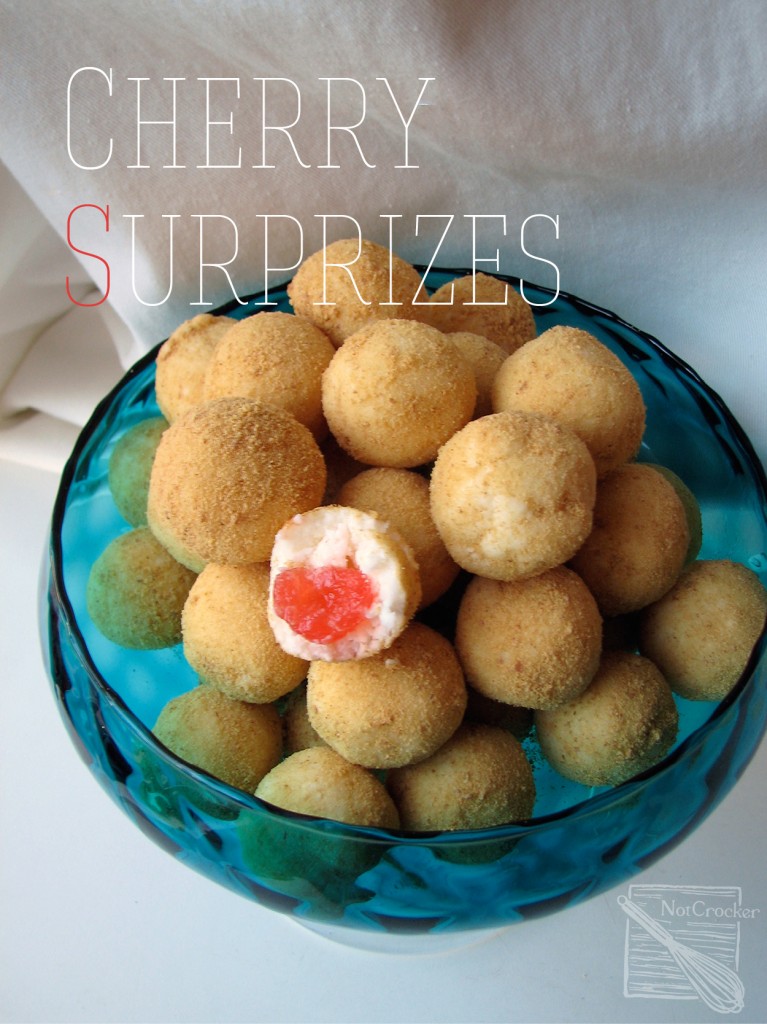 These are a holiday favourite that are easy to make and even easier to eat. Primarily composed of butter and sugar, it's easy to see why these are so delicious. You can soak the cherries in a liqueur like I did, or leave them plain (but why would you!). These keep on the counter fine when serving, but they are best kept for longer periods in the fridge or freezer for a firmer treat. Also, I made a chocolate version a few years ago but adding a couple tablespoons of cocoa to the butter mixture and to the graham crumbs before rolling. If I make that version again this year, I will be sure to post an update.
Cherry Surprizes
Makes about 3 1/2 dozen.
INGREDIENTS
1\2 cup butter
1 3\4 cups icing sugar
1 tsp almond extract
1 1\2 cups fine coconut
31\2 dozen maraschino cherries (one large jar or a tub)
1 cup of fine graham wafer crumbs
1/2 cup apricot brandy or other liqueur of choice
DIRECTIONS
The night before, drain cherries and top up with liqueur to soak overnight.
In a large bowl, cream butter, gradually add icing sugar and flavouring.
Mix in the coconut. Mixture should be fairly soft.
Drain cherries well.
Wrap about 1 tsp of butter/dough around a cherry. Roll into a smooth ball, and roll in the graham wafer crumbs, either in a bag or a bowl. Place in a container to chill.