Honestly, I am in a bit of a state. I cannot believe that we are a week away from December and just over a month from Christmas. Oy, this fall has flown by. I need to finish getting Christmas presents. I need to tell people what I want for Christmas. I need to make stacks and stacks of gingerbread houses for my gingerbread house party. I need to make my Food Blogger Cookie Exchange cookies and send those out. I need to do SO MANY THINGS.
At least it is sunny, my paper is coming along nicely, and I live in a city I love. Mom gets here for a visit in less than a month, and I am going to do some awesome tub renoing (redoing the caulking) next weekend, which I am strangely excited for. So things are moving quickly, but stuff is happening and that is great. Also, I had my contract extend at the NFB for another session, so that's great news as well, and I am happy to get to stick around.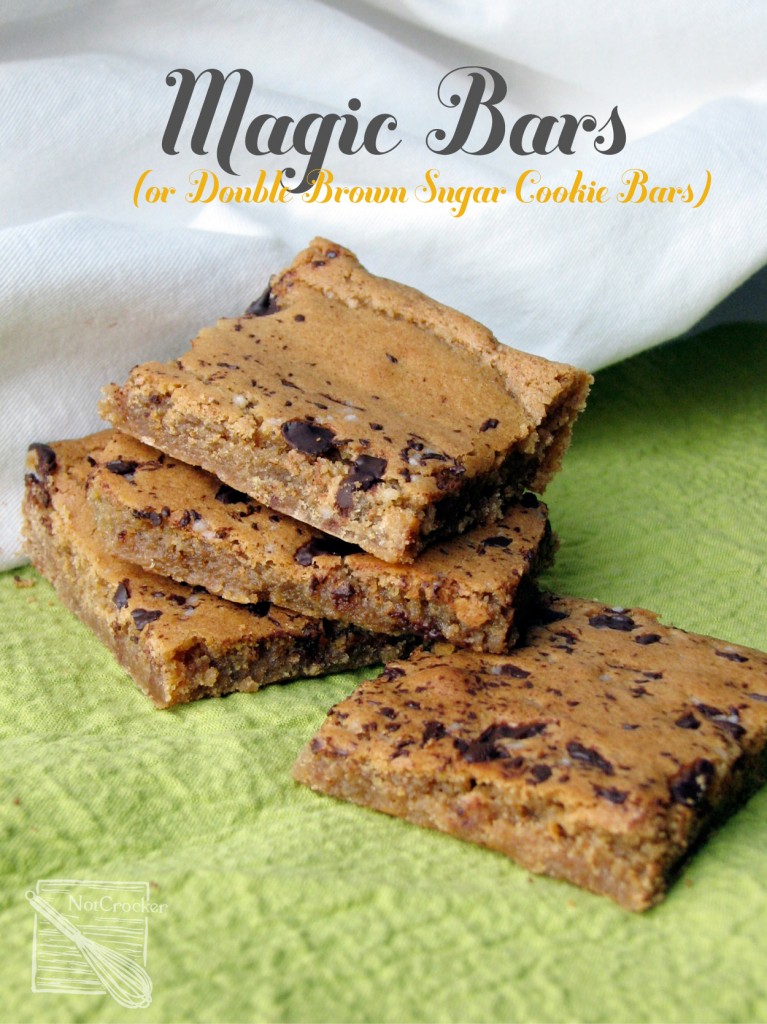 Goodness these bars rock. I was wanting to make sugar cookie bars because I've never made them and they always look so good. When I went to make them, I found that I was completely out of white sugar, so an adjustment or two needed to be made. The brown sugar versions are insane. I want to call them magic bars, because to me they are incredibly magical. They are ooey gooey in your mouth but they don't ooze in the pan. They have a crispy top that stays crunchy even the next day and the centre is chewy, ooey and gooey, but they totally maintain their structural integrity when cut. I am CRAZY about them and pretty thrilled that they've entered my life. I topped these with coarse salt and dark chocolate shavings but you can feel free to skip both or add your own toppings (chopped nuts, other types of melty chocolatey/butterscotchy goodness would be awesome too).
Magic Bars or Brown Sugar Cookie Bars
INGREDIENTS
1/2 cup butter, lightly browned
1 cup light brown sugar
1 cup dark brown sugar (can use 2 cups of the same kind of brown sugar if wanted)
2 eggs, beaten
1 tsp vanilla
1 1/2 cup all-purpose flour
2 tsp baking powder
1/2 tsp cardamom
1/2 tsp coarse salt (for topping)
dark chocolate shavings (as needed)
DIRECTIONS
Heat oven to 350°F. Lightly grease a 9- x 13-inch glass dish and line it with parchment paper, set aside.
To brown the butter, melt it in a small pan over medium-high heat. Let it bubble up and when the liquid reaches a medium-golden colour remove it from the heat. (see my browned butter tutorial here) ** Feel free to skip browning, and just use melted butter.
Stir the butter and sugars together until completely combined. Add the eggs and stir until smooth.
Add the vanilla and stir through.
Stir in the flour, baking powder, and cardamom until completely combined.
Glob the mixture into the prepared glass dish and smooth out across the bottom. Sprinkle the top with the coarse salt and chocolate shavings until you've reached desired coverage.
Bake for 20 minutes, until the top is golden.
Allow to cool for a few minutes before cutting, you will notice that it sinks down a bit while cooling, don't worry!
Serve warm or cold for a magical treat!