I still haven't gotten around to correcting the issues with my site, so I am sorry about the smaller images crunched over to the side. I am looking at new style, and may do some testing with it tomorrow. We'll see.
I can't believe that we are half-way through November and well on our way to Christmas. I am really looking forward to visiting with my mom when she comes down to visit. It will be just a week but she is going to stay with us for another week in January, which will also be great. Holidays are wonderful and while I look forward to another year when our whole family can get together, having my mom stay with us will be special (sorry you have to sleep on the couch!).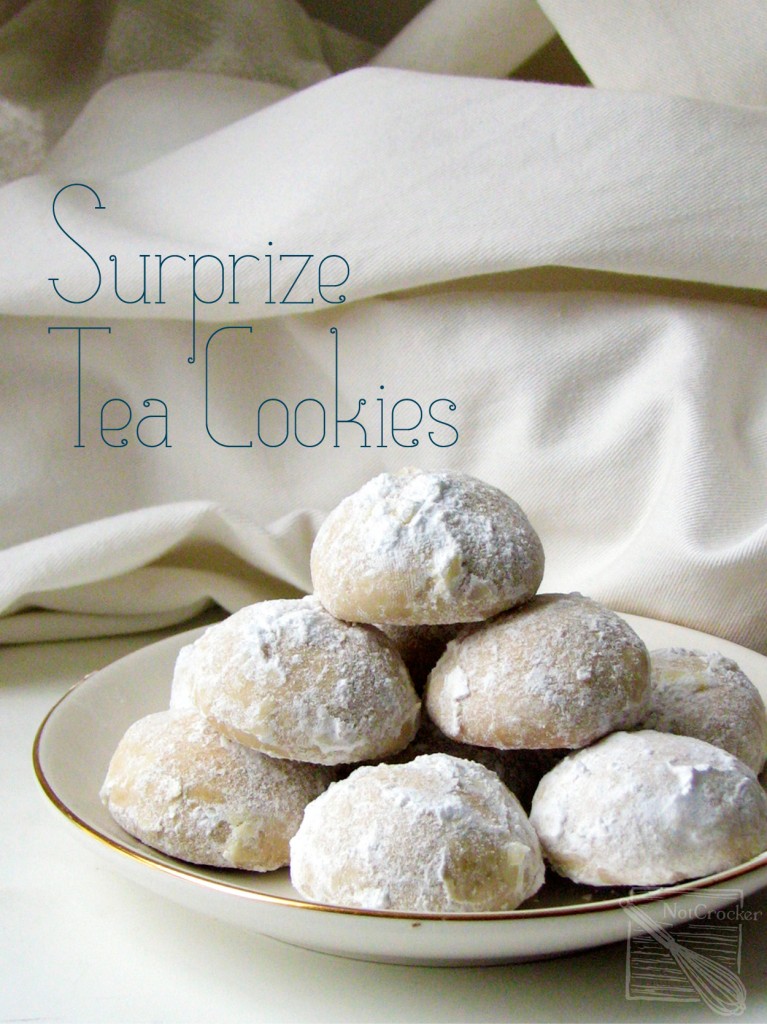 These are only surprizing in that they have a little nugget of Smartie in the middle! For those readers in the states, these are Canadian Smarties, similar to M&Ms. I was going to take a picture of the centre of these treats but the coating of the Smarties doesn't look lovely when baked.
Inspired by the same kind of cookie I made with my childhood friend Heather B, these cookies are buttery and soft. Heather's mom would set us up in her kitchen with what we needed and we would bake these up in a flash, licking the powdered sugar from our fingers as we worked. You don't have to use anything to stuff these cookies but then you should probably just call them Tea Cookies… or call them Surprize Tea Cookies but the surprize will be the lack of surprize!
Surprize Tea Cookies
INGREDIENTS
3/4 cup butter, softened
3/4 cup brown sugar
pinch coarse salt
1 egg
1 tsp vanilla
1 3/4 cup all-purpose flour
DIRECTIONS
Heat oven to 350°F. Line a baking sheet with parchment paper, set aside.
In a medium bowl, beat together the butter and sugar until light and fluffy. Add salt and beat through.
Add the egg and vanilla, beat until well combined.
Add the flour and mix until a dough forms, scrape down the sides as needed.
Roll 1-inch balls and press a Smartie into the centre, then shape the ball back around and roll in your hands until smooth. Repeat with the rest of the dough and Smarties, placing each ball on the baking sheet 1-inch apart.
Bake for 10-15 minutes until golden on the bottom.
Place the icing sugar in a ziploc bag and roll each cookie in the sugar while still hot from the oven. Place coated cookies on a wire rack to cool.
Serve with tea, or coffee, or straight into powdery little mouths.