This summer has been busy, but it's also been pretty great. Last weekend I flew out to Toronto to celebrate the marriage of my amazing friend Heidi to her now-husband Colin. It was an incredibly fun trip, flying with my friend Megan and staying with our friend Lauren. I don't know how I manage, but whenever I visit Toronto, it's in July, and it's generally obnoxiously hot, this trip was no exception. Thankfully Lauren had an amazing fan, and we powered through!
The wedding was beautiful and Lauren and her boyfriend, Brian, were awesome hosts (no surprise there)! Food highlight of the trip (other than the amazing wedding food!) was Lauren making Momofuku bagel bombs. I've actually had this recipe tucked away for a long time, but as with most things Momofuku, I was somewhat intimidated. But, Lauren confidently whipped these up, and I helped her wrap the dough around the cream cheese plugs, and they were incredible! These are actually really easy, they just take a bit of time to prep, with the plugs needing some time to freeze and the dough needing to rest. That said, prep these on a Friday night, and your Saturday morning will be GLORIOUS. The real perk of these is that you can mix up the filling, and I am planning on adding some smoked salmon and dill next time around.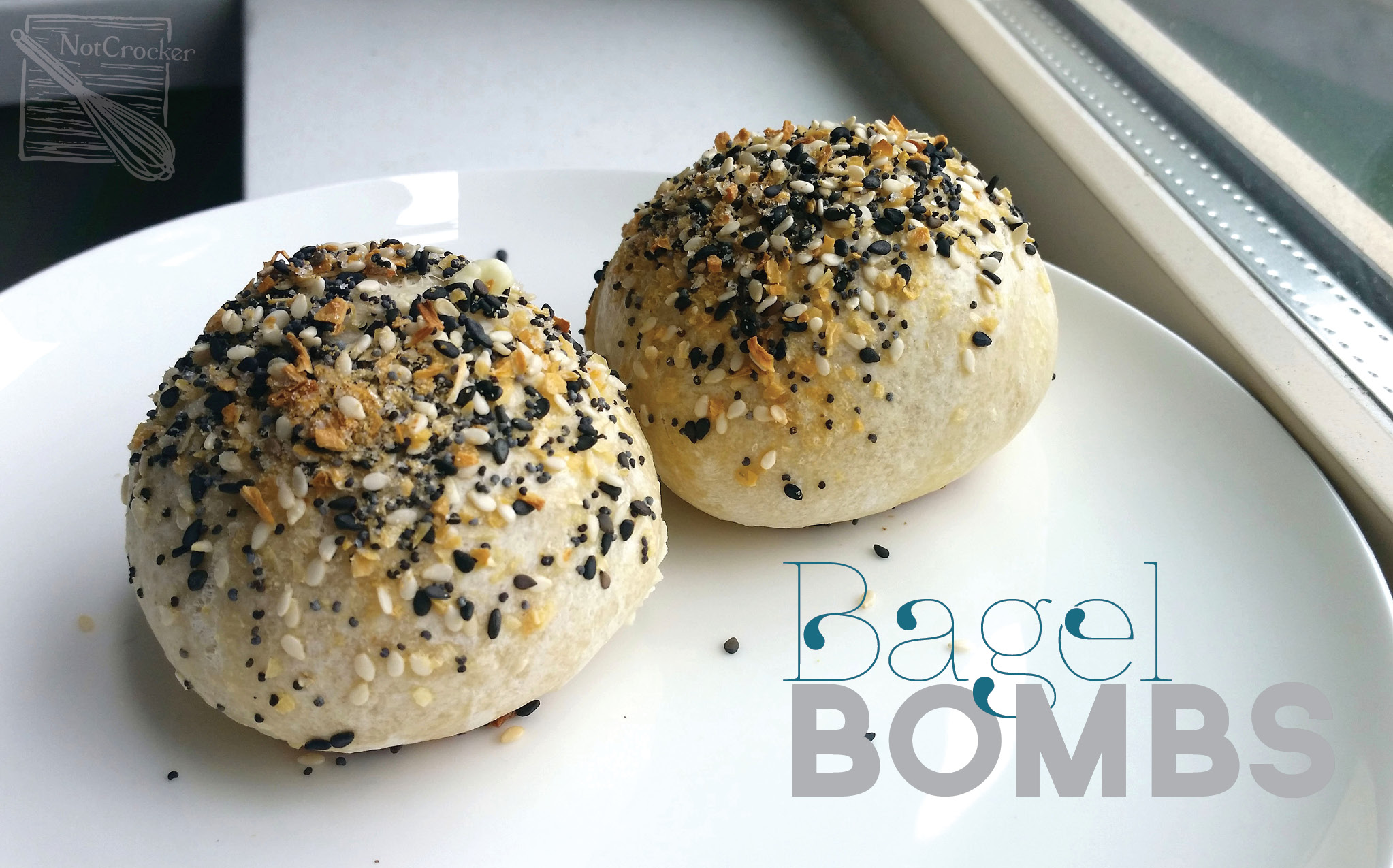 Momofuku Milk Bar Bagel Bombs
Slightly adapted from original recipe, find the cookbook here.
Makes 8 bombs (I made 9)
Ingredients:
Mother Dough (their amazingly versatile dough recipe)
Scallion Cream Cheese Plugs (Recipe Below)
1 egg
1 recipe Everything Bagel Mix (Recipe Below)
SCALLION CREAM CHEESE PLUGS
Makes 8-10 cream cheese plugs
Ingredients:
1 – 8 oz block cream cheese, room temperature
1/2 cup sliced green-parts of scallions (more or less to your preference)
1 tbsp olive oil
1/2 tsp salt
Directions:
In a medium bowl, mix the cream cheese until light and fluffy. Scrape down the bowl. Mix in the olive oil until well combined.
Add the scallions and salt. Scrape down and mix until fully incorporated.
Using two smalls spoons, scoop the mixture onto a lined cookie sheet. You want 8-10 equal sized lumps. Freeze until rock hard, 1 – 3 hours. You can also do this well in advance, I did it the night before.
MOTHER DOUGH
This is the original recipe, the bagel bombs only need half this amount. Either make half the recipe, or reserve the other half to make everything from brioche to Momofuku Volcanoes.
Ingredients:
3 1/2 cups all-purpose flour

2 1/2 tsp coarse salt
1 tsp active dry yeast
1 1/2 cup room-temperature water
Olive oil for the bowl
Directions:
In a large bowl stir together the flour, salt, yeast and 1 cup of the water until it is shaggy.
Using a dough hook and mixer, mix at the lowest speed for 3 minutes. Add more of the water if needed. 
After the 3 minutes the dough should be smoother and have come together. Continue kneading on the lowest speed for another 4 minutes. After 4 minutes, it should be smooth and bounce back when poked.
Brush a large bowl with a bit of oil (large enough for the dough to double). Add the dough and turn to coat. Cover with plastic wrap and store in warm, draft-free place, leave to rise for at least 45 minutes.
Once doubled in size (mine took just over an hour) it's ready to use. You can also do this in advance, cover tightly and refrigerate to put the bombs together the next morning (up to 3 days), allowing 30 minutes to bring the dough up to room temperature when you are ready to use.
EVERYTHING BAGEL MIX
Makes enough for 1 bagel bomb recipe
Ingredients:
2/3 tsp salt

1 tbsp white sesame seeds
2 tsp black sesame seeds
2 tsp poppy seeds
1 tbsp dried minched onion
1/2 tsp onion powder
1/4 tsp garlic powder
Directions:
Mix everything together in a bowl, set aside. (

Can be stored in a covered container for up to 6 months)
Bomb Directions:
Heat the oven to 350°F. Line a cookie sheet with parchment paper.
Punch down the mother dough in the bowl and turn out onto a smooth, dry surface. Portion the dough into 8-10 equal-sized pieces (same number as the plugs you made).
Taking each portion of dough, gently stretch it out into a disc, about 3-inches across and place a plug in the middle. Fold the dough over the plug and pinch to seal and roll between your hands to gently smooth. Place on the prepared baking sheet and keep going until all bombs are sealed.
In a small bowl whisk together the egg and a drizzle of water. Brush the egg mixture over one bomb at a time, making sure it is thoroughly coated, on the top and sides, avoid the bottom. Then follow with a generous sprinkle of the everything mixture, again making sure to thoroughly cover the bombs, but avoid the bottom. Mine left a lot in the pan, but was still able to coat each well. Repeat with each bomb.
Bake 20 -30 minutes, until browned (mine only lightly browned). The cream cheese may explode out of some of them, no worries, it's easy to shove that goodness back inside (with a spoon, or when slightly cooled).
Bombs are best eaten right off the bat, though should be allowed to cool slightly (the insides are hot!). But, if you aren't able to eat them right away, they reheat in the oven really nicely. Once cooled, just cover with wrap and refrigerate for up to 3 days. I am going to experiment with freezing them, and see how they do with that.