Well I guess my last few posts, spaced very dramatically apart over the last couple years were a suggestion that poor NotCrocker was left on its own. I've been around, checking in, but largely just figuring out life. And it's been alright. I produced a short film, am still doing that. Flew to London and most recently I've started a new job, and am finally getting back to things that make me happy. It's been a crazy 2-3 years. Truly, since I've moved to Vancouver, my whole life has been a bit topsy-turvey. I moved to Vancouver in August of 2011, packed into the moving truck with my dad at the wheel, it was the exciting start to a new adventure. We arrived, settled into my new place and struck off on my new life. I've met some incredible people in this city. My Masters program was a huge part of my feeling settled and part of something. My best friends are those I met in the program, women whose drive and intelligence inspire me. And since finishing coursework, the jobs I've held have all been an amazing source of learning and growing for me. I loved being part of the NFB team, and while I am sad to move on, I have been really enjoying my new path.
In the midst of all the newness, my dad was diagnosed with and passed away from cancer. It was a traumatic time, and it changed me a lot. My dad and I were close, he was a wonderful man who really shaped who I am, and how I go through the world. His passing taught me a lot about myself, lessons I am still learning, really.
All to say, a lot has changed, but my love for NotCrocker has remained. I've baked and cooked plenty over the last couple years. I've made cakes and cookies, casseroles and salads. I've come up with new combos and tweaked old, I've just not had the energy or brainspace to focus on this, something just for myself. NotCrocker is my space, it's always been where I've come to be creative. The last couple of years were a bit of a suck on my resources, and I feel that a lot of myself was swept under the rug while I was busy serving other interests. Enough of that. I am going to, admittedly slowly, start posting again. And I am excited. I'd love suggestions for recipes, requests, new things to try!
For today's recipe, I am channeling my deep, deep love of rhubarb. Seriously folks, I love rhubarb. I love dipping a stalk in sugar and taking a bite. Rhubarb just tastes like summer. I even like rhubarb and strawberry pie… and I barely like pie as a rule, so that's pretty special. The tangy, brightness of rhubarb just goes so well with buttery-sweet baking. My mom caught wind of my desire to have some tasty rhubarb treats and when we ended up at my sister's place that weekend, my sister proceeded to whip up a delicious crumble. She chopped up the extra rhubarb and we popped it in the freezer so I could take it home and do some baking of my own. Well, of course I forgot it, and only now, two weeks later, have I hunted down my own in Vancouver. To start, Rhubarb Coffee Cake!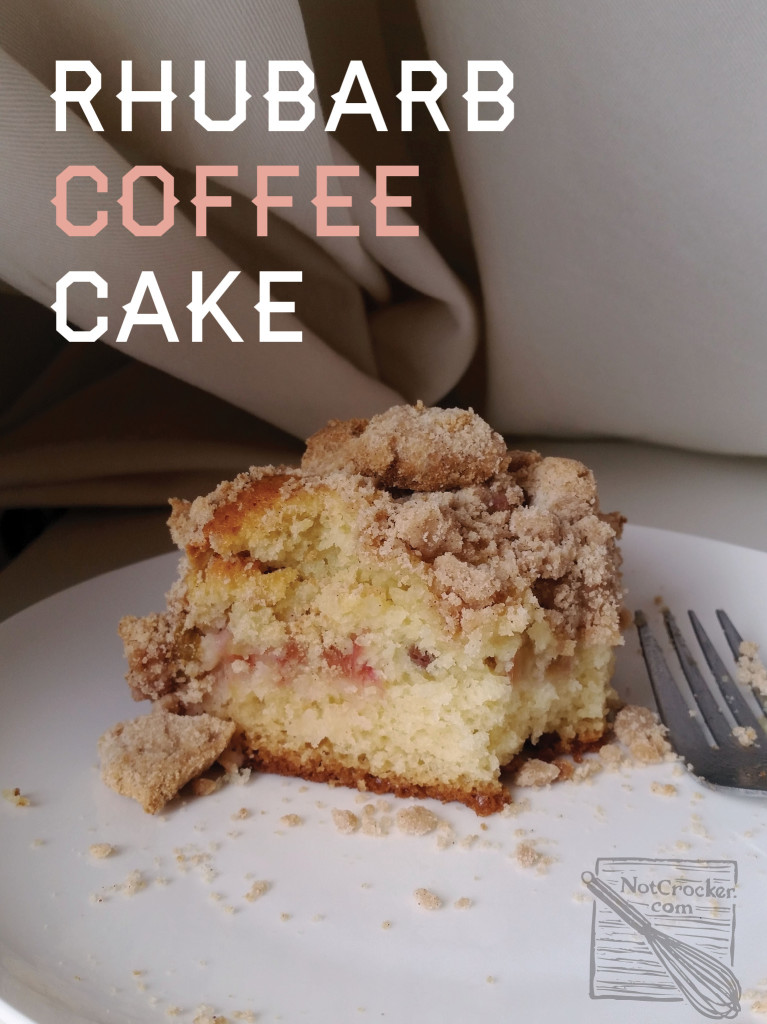 This cake is buttery and just sweet enough to tackle the tanginess of the rhubarb. With a little spiced-sweetness from some cardamom and cinnamon, and we have a lovely cake that is so good on its own, or with a hot cup of coffee… or really, even tea. The crumb on top is buttery and sweet with a little spice to tie it all together. Oh rhubarb. I love you.
Rhubarb Coffee Cake
Serves: 16 (or 8 really happy people)
Time: appx 1 hr 15min
Ingredients:
Rhubarb prep:
• 4-6 cups chopped rhubarb (to preference, I like LOTS)
• 1/2 cup granulated sugar
• 4 tsp cornstarch
• 1/4 tsp ground cardamom
Cake batter:
• 2/3 cup sour cream
• 3 large eggs
• 1 tbsp vanilla extract
• 2 cups all-purpose flour
• 1 cup granulated sugar
• 1 tsp baking soda
• 1 tsp baking powder
• 1/2 tsp salt
• 3/4 cup butter, room temperature
Crumb topping:
• 1/2 cup brown sugar
• 1/2 cup granulated sugar
• 1 tsp ground cinnamon
• 1/4 tsp ground cardamom
• 1/3 tsp salt
• 1/2 cup butter, room temperature
• 1 1/4 cups all-purpose flour
Directions
1. Preheat oven to 325 degrees. Butter a 9- x 13-inch glass cake pan.
2. Toss together the rhubarb, cornstarch, sugar, and cardamom and set aside.
3. In a large mixing bowl, whisk together the sour cream, eggs, and vanilla. Add the dry ingredients and mix until just beginning to combine. Add the buttered in 4 parts, cutting into chunks before adding. Mix until butter is broken-up throughout. Don't worry if the butter isn't complete integrated, as long as it is just very small pieces throughout, it will be great (smaller than pea-sized).
4. Scoop out 1 cup of the batter and set aside. Scrape the remaining batter into the pan and spread evenly across the bottom. Top with the rhubarb, spreading evenly across the batter. Top the rhubarb with dollops of the set-aside batter, space it well, but don't worry about making it even.
5. In a medium mixing bowl, whisk together the sugars, salt, spice, and flour for the crumb mixture. Using your fingers, or a pastry cutter, cut in the butter, until you have a rough mixture. Sprinkle the crumbs evenly across the top of the coffee cake. If you want, you can double this mixture for more crumb.
6. Bake the cake until a toothpick comes out clean, approximately 45-55 minutes. Cut and serve with your favourite coffee.
I hope you get a little taste of rhubarb at the beginning of this summer. It really is an awesome way to start it. And part of my return, as gradual as it may be, will be fixing all the broken images across NotCrocker. I have them tucked away, just have to dig them back out.