Well, this is it, a commitment from me to me to cook more paleo and keto foods. I love the creativity needed to come up with new versions of our favourite carb-ladened foods. It is a challenge, and as my last couple months of blogging can attest, I've been pretty worn out. But I see the interest (check out my most popular low carb post, Chicken Pizza Crust), and I know that I feel great when I am eating a lot more veggie and protein combos than sugar, so here we go! This is pretty much my first public proclamation of a paleo commitment, but my interest in it has been evident through my many paleo and keto posts over the last year.
So here I am, making a commitment. I will try to post more delicious paleo and keto options that make use of veggies and proteins in ways that I love. Most of my cooking in this style is kind of thrown together, which is why I don't often post it, but I will make an effort to really document what works, why I did this, that, and that other thing, and will keep on making food that tastes great and makes you feel great!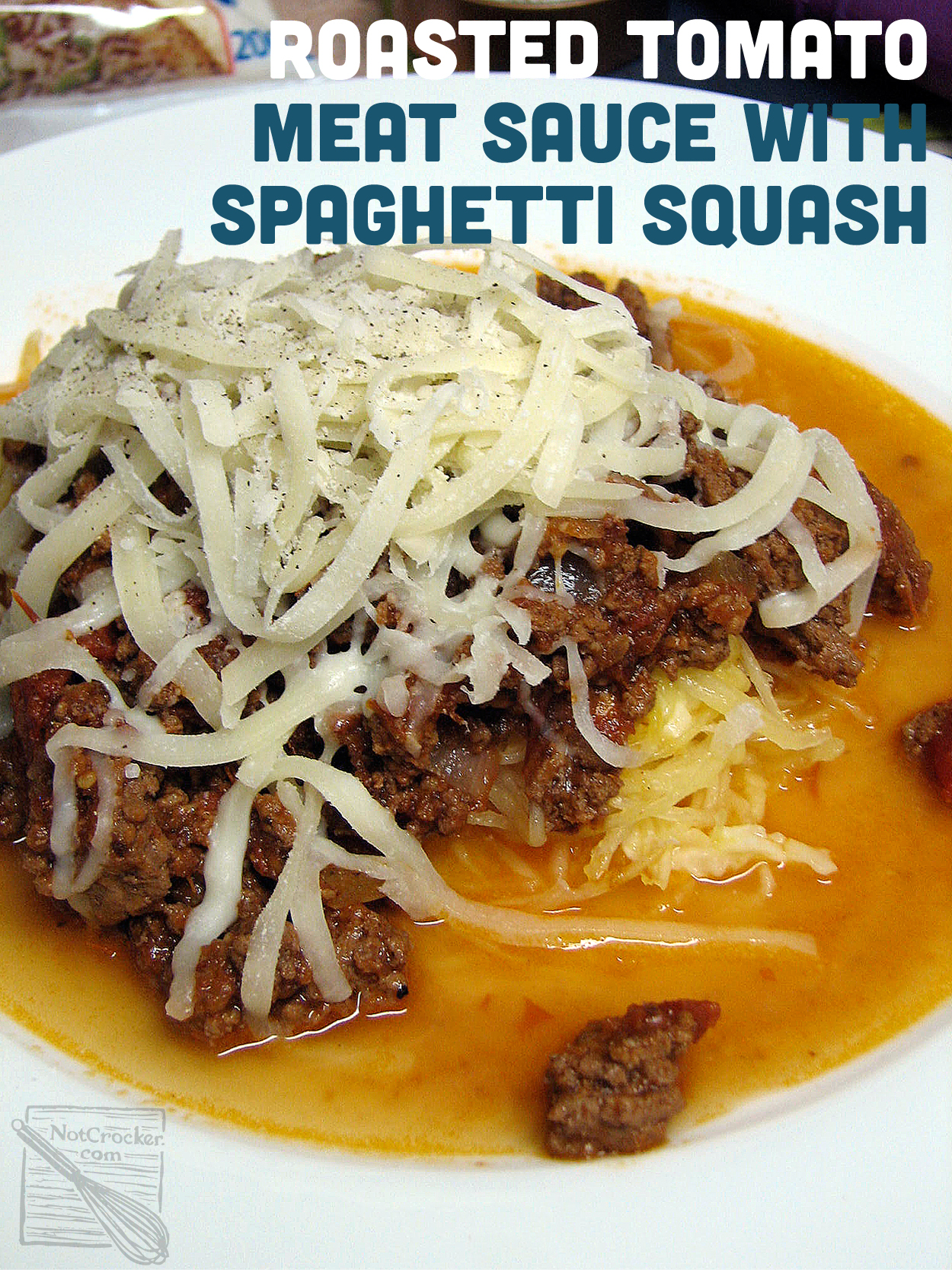 To start things off again, here is my first foray into pasta sauce making! I know a lot of people avoid tomatoes on a bunch of variations of different diets, but this sauce was easy, flavourful and perfect over top of spaghetti squash that had also been roasted in the oven! Feel free to omit the meat and cook down your sauce to a thicker consistency. Again, it was a new attempt, but I am pretty happy with how it turned out and will definitely make it again in the future. The addition of cinnamon, cloves, and balsamic vinegar sweetens up an otherwise tangy sauce, and reminds me of the very cinnamon-y and clove-y recipe our beloved neighbour Barb used to make (and actually how my husband makes his sauce). Feel free to leave this ingredients out if they don't suite your tastes, but know that they are subtle and just add a little extra something to the flavour.
Roasted Tomato and Beef Spaghetti Sauce
(and Roasted Spaghetti Squash)
INGREDIENTS
4 lbs of tomatoes, quartered and seeded (I seeded mine because they were a little sprouty, feel free to leave seeds though it may be bitter)
olive oil
2 tbsp minced garlic
coarse salt and pepper to taste
2 tsp dried basil
1/2 cup butter, chopped into chunks
3 cups water
1 tsp chili pepper flakes
1/2 tsp cinnamon (*optional)
1/4 tsp cloves (*optional)
2 tbsp balsamic vinegar (*optional)
1/2 tsp garlic (to cook with the beef)
1 lb ground beef

1/2 red onion, chopped
1 medium spaghetti squashes, pierced all over
4 tbsp butter
1 cup parmesan cheese
mozzarella to top
DIRECTIONS
Squash first! You can either cook them whole for 1- 1.5 hours or halved for half the time. I am not strong enough or coordinated enough to cut a raw squash in half, so I happily bake mine whole. Whole instructions follow:
• Poke a lot of holes in your two squashes. I used a thin meat thermometer and it worked beautifully.
• Place poked squashes together in a glass 9-x13-inch baking dish to hold them steady and bake in a 350°F oven for 1 hour (up to 1.5 hours) until tender enough to be easily stabbed with a knife.
• Cut the squash in half lengthwise and scoop out the seeds and slimy centre bits. Be careful, it is hot.
• Before serving, place cut and cleaned squash back into baking dish (you may need a second dish now), add a tablespoon of butter in each and sprinkle with parmesan cheese. Bake for 10 minutes, until cheese is melted.
• To serve, use a fork to scrape out squash strands. Top with sauce made below!
Heat oven to 350°F, line two baking sheets with foil. Wash and quarter your tomatoes and spread them out evenly across the baking sheets. Drizzle with olive oil and sprinkle with the garlic, basil and liberal amount of salt and pepper. Toss to coat and distribute evenly. Dot the 1/2 of butter evenly across the tomatoes.
Bake the tomatoes for 1 hour, check to make sure they are cooking evenly. Cook for another 30 minutes to an hour until they are lightly blackened.
Add the cooked-down tomatoes to a large pot. Add the water and spices and cook over medium heat for 20 minutes.
Using a hand blender, blend the mixture until desired texture. Taste and adjust spices and salt and pepper as needed. Add the balsamic vinegar if wanted, taste again for salt. Add more water to thin the sauce, or cook down to thicken.
In a large pan, brown the ground beef with a drizzle of olive oil. Season with salt, pepper, and garlic.
Add the browned beef to the tomato mixture.
In the pan used for the beef, cook the onions until just translucent. Add a splash of balsamic vinegar to lightly deglaze any bits left over and add everything to the tomato pot.
Let sauce cook over medium-low heat for 20 minutes (up to a few hours) let the flavours mellow.
Serve over spaghetti squash and sprinkle with mozzarella cheese!