It's that time of year again, cookie swap time! I was so thrilled to participate in The Great Food Blogger Cookie Swap last year, so of course I hustled to sign up again this year. There is nothing I love more than seeing what other bloggers create and also hearing if they've enjoyed my creations!
It was my absolute pleasure to send a batch of these to Gastronomical Sovereignty (soon to be She Eats), Peanut Butter and Onion, and the Savour Sisters. Check out these lovely blogs and help support incredible Canadian Food Bloggers! Of course, food bloggers from around the world participated, and I will post a link to the full list when it is posted on Monday!
Sadly, I have only received two of my three swap batches, but that's alright because those I did receive we FANTASTIC! Further to this sadness though is that I promptly lost both the cards from both the batches that I did receive so I am going to keep an eagle out for their recipes so I can properly link to them and thank them here. I figured one out!
First, from Sweet Twist of Baking, I received delicious espresso short bread with dried cherries and almonds, which I ate with tea and coffee. They were so buttery and just lightly sweet that they felt appropriate for first thing in the morning… and in the afternoon… and before I went to bed. The other batch were sugar cookies (I believe… I am terrible at naming cookie types). They were thin but sturdy with a good bite. The icing on top was PERFECT, with little silver dragees for sparkle and crunch. These also got promptly gobbled up with tea and coffee. So, thanks to those two wonderful bloggers who I promise I will name when I a) hear from you; b) hunt down your recipe; c)find your cards.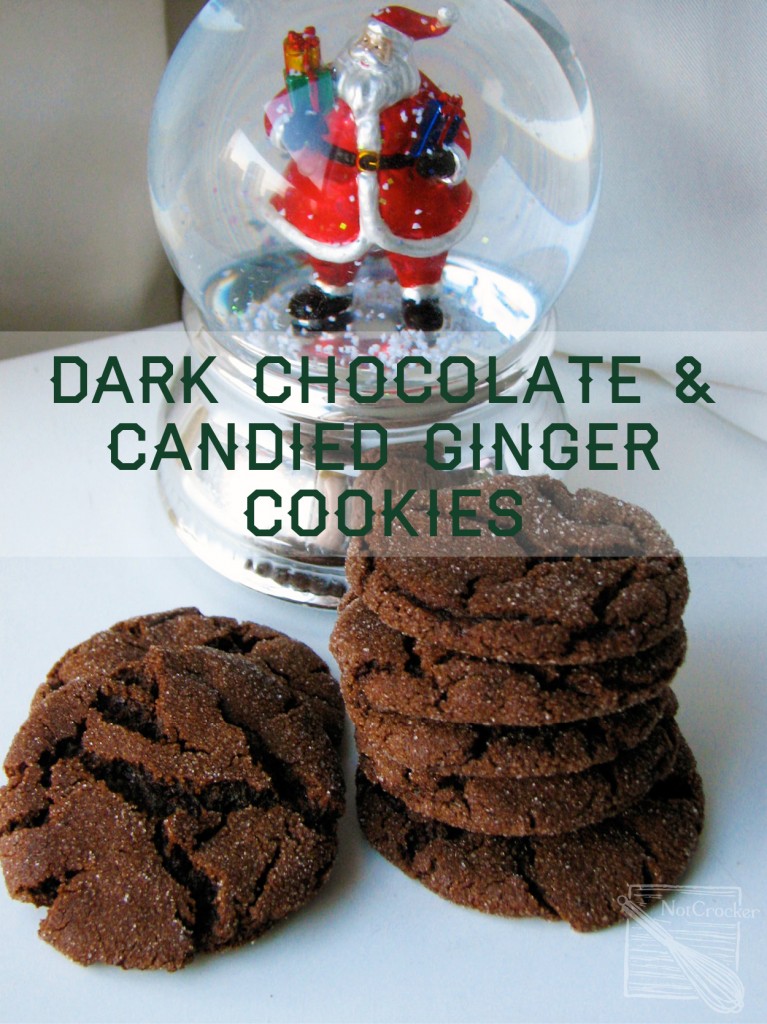 I don't know why but this cookie swap brings out my desire to combine spicy and sweet. Last years cookies were my Hot Chocolate Cookies with Cardamom and Pink Peppercorn Marshmallow.  Clearly this swap also brings out my desire to bake cookies and give them ridiculously long names. These are less finicky and certainly as delicious. The chocolate and ginger combo is one of my favourites, and candied ginger is just such a weird treat that I thought it's chewy goodness would pair perfectly with this crunchy, chewy cookie.
Dark Chocolate & Candied Ginger Cookies
Adapted from here. 
INGREDIENTS
1/2 cup butter, room temperature
1 tsp grated ginger (*optional)
1/2 cup dark brown sugar, packed
1/2 cup molasses
1 tsp baking soda
1 1/2 cups all-purpose  flour
1 tbsp cocoa powder
1 1/4 tsp ground ginger
1 tsp cinnamon
1/4 tsp cloves
1/4 tsp nutmeg
3 ounces of candied ginger, roughly chopped
5 ounces of dark chocolate, roughly chopped
DIRECTIONS
In a large bowl, beat together the butter and grated ginger until fluffy and light. Add the molasses and brown sugar, beat until smooth.
In a small bowl dissolve the baking soda in 1 1/2 tsp of boiling water. In a large bowl whisk together the flour, cocoa powder, and spices.
Stir 1/3 of the flour mixture into the butter mixture.
Add the baking soda and water and stir to combine. Stir in another 1/3 of the flour mixture.
Add the last of the flour mixture and the chopped ginger and chocolate. Adding the ginger with the last of the flour will help prevent it from clumping together. Mix to just combine.
Cover the dough with plastic wrap and refrigerate for 2 hours.
Heat oven to 325°F and line two baking sheets with parchment paper.
Roll the chilled dough into 1-inch balls. Roll balls in the white sugar and place 1 1/2 inches apart on the cookie sheet.
Bake for 10-12 minutes until cracked on top. Cool in the pan for a few minutes before moving to a wire rack to cool completely.