Oh sunshine and daylight savings, I love you both. Waking up this morning at 7:45am to sunshine and feeling well-rested was GLORIOUS. I've been happily working away at my thesis, and pondering a trip to Fort McMurray to visit my sister and her family. Hopefully I will get to go this coming weekend, in lieu of my trip for Thanksgiving. It would be so nice to see my sweet little nieces in person again, as well as meet my new dog niece and of course see my sister and my brother-in-law.
As I sit here, typing up this beloved recipe, smelling the ham and black beans Gen has cooking on the stove, and anticipating my piece of almond puff after dinner, I feel so crazy lucky to be living in Vancouver, doing something I enjoy. I mean, I'd feel luckier if all the people I love were in the immediate vicinity, but as it is, life is good.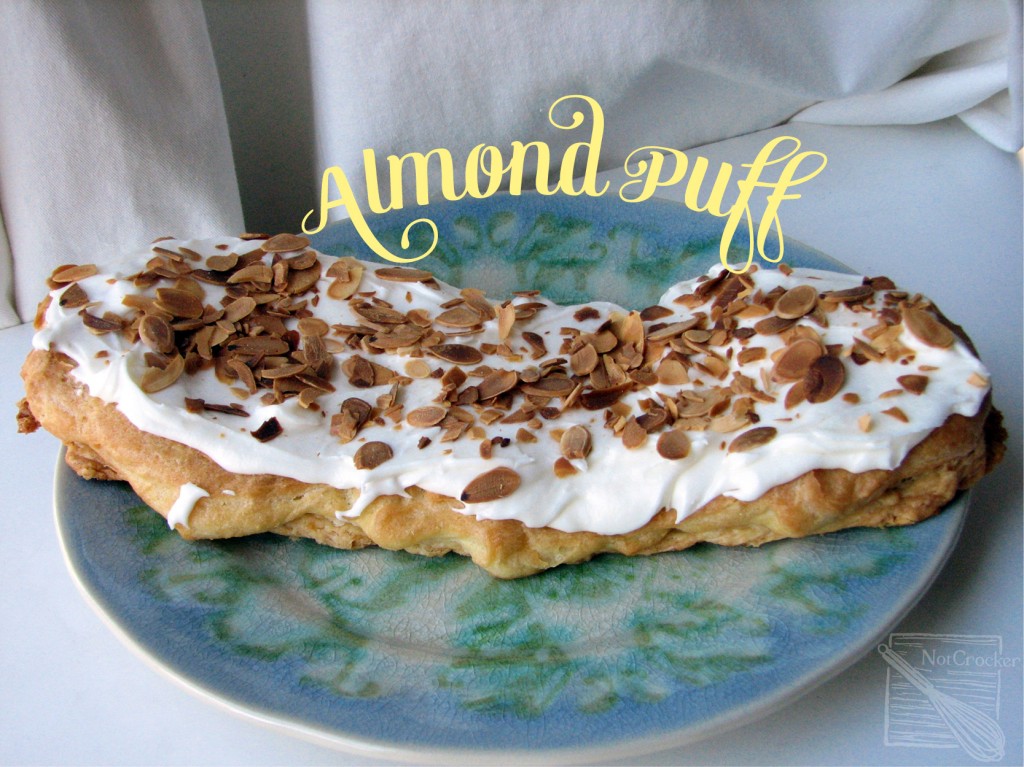 This is such a simple, elegant dessert that comes, once again, from my mom's black book. I hadn't thought about it in years, but mom mentioned it in a phone call and I knew I needed to have it. The base is simple and the almond puff part comes together in a few minutes of vigorous stirring. Topped with a generous amount of icing, and you have an almondy cloud. The recipe makes two… puffs. They are easy to slice into portions and just so satisfying.
Almond Puff
INGREDIENTS
Base:
1/2 butter, room temperature
1 cup all-purpose flour
4-6 tablespoons of water
Puff:
1/2 cup butter
1 cup water
1 tsp almond extract
1 cup all-purpose flour
3 eggs
Icing:
3 cups of icing sugar
1/4 cup butter, room temperature
3 tsp almond extract
2-4 tbsp warm water
DIRECTIONS
Heat oven to 350°F. Line a large cookie sheet with parchment paper, set aside.
Base: In a medium bowl, cut the butter into the flour until it resembles a coarse meal. Add 2 tablespoons of water and stir. Add another 2 tablespoons of water and mix to form a ball (add the additional 2 tablespoons if necessary).
Split the dough in two and spread each half into a 3-inch wide strip on the prepared baking sheet. Use your fingers to push the dough strips to about 12-inches in length, they will be about 1/4-inch thick. Set aside.
Puff: In a medium pot, melt the butter and water together. Bring this mixture to a boil and remove from heat, stirring in the almond extract and flour. Mix until well combined and forming a ball.
Add the eggs to the flour mixture, one at a time, stirring until completely incorporated. It will seem to not mix at first but will come together with some vigorous stirring.
Spread this egg and flour mixture evenly over the two bases, right to the edges of each.
Bake for 50-60 minutes until browned and crisp on top.
Allow to cool on a wire rack. In the meantime, toast some sliced almonds in the oven until just browned and fragrant (watch carefully, do not burn), remove from heat to cool.
Icing: In a medium bowl, mix together the butter, icing sugar, and almond extract. Add the water, starting with 2 tbsp and adding more as needed until a smooth, light icing is formed. Spread icing over cooled puffs and top with toasted almonds.
Slice across to serve!