Well hello fall and goodbye sky. We've had an incredible amount of fog in the last week. I like it frankly, it is cool so I have been cozying down in my pjs and blanket. Watching the other buildings slowly disappear is weirdly calming. I don't like the lack of sunshine, but I will take a few days of darkness here and there.
In other, exciting news, another NFB Digital Studio project has launched, this one is one of mine! Check out Similkameen Crossroads in your web browser. It is a gorgeous photographic and audio essay by Tyler Hagan. It launched at ImagiNative on Friday. Click through the photos while listening to the stories from the Similkameen Valley.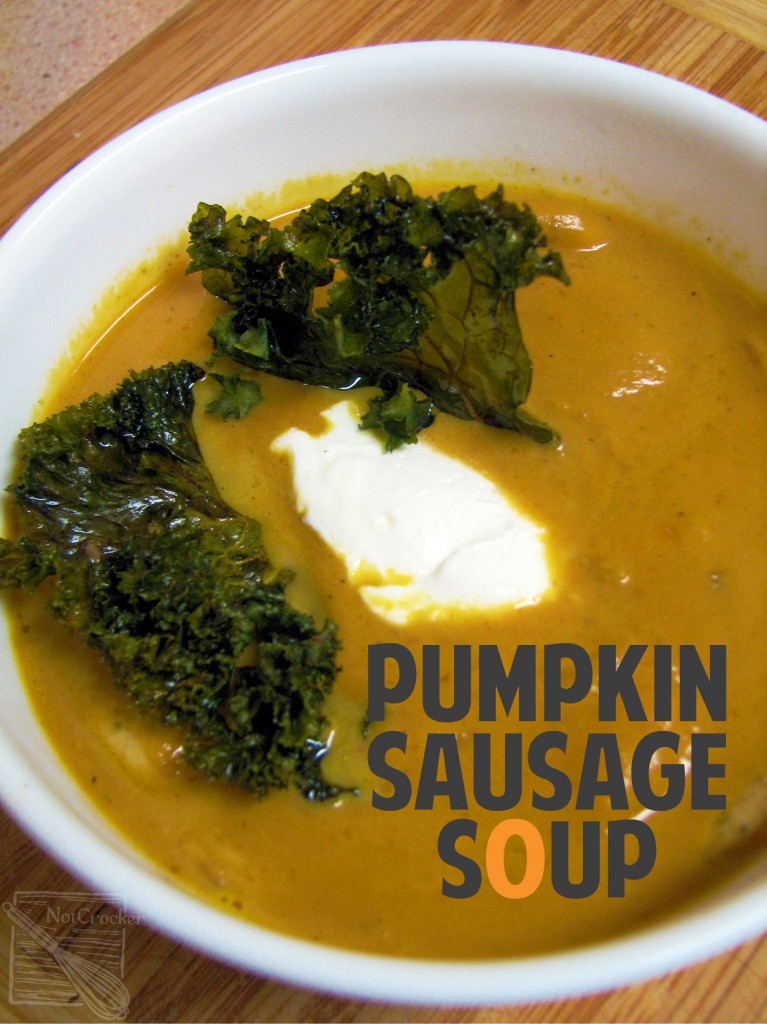 I wish this post included a series of me demonstrating the proper pumpkin gutting, butchering, and roasting techniques, but sadly I did not carve a pumpkin this year so all it would've shown was me scraping pumpkin from the inside of a can. Sad day indeed. Canned pumpkin is good in a pinch, and happily available all year round. This soup is creamy and rich, with adjustable spices to suit your needs. I used a German sausage this time, but would definitely opt for a spicier Italian sausage on my next go. Bake up the kale chips in advance and let them sit in the oven, turned off, until it is time to eat. Letting them hang out will keep them crispy. You can eat them on the side or add them into the soup for a softer kale addition.
I feel like I took a lot of shortcuts with this recipe, using canned pumpkin and boxed chicken broth, but it turned out rich and delicious, so I am alright with that.
Pumpkin Sausage Soup
INGREDIENTS
Kale Chips
olive oil
1 bunch of kale, washed and de-ribbed
cayenne pepper
coarse salt
Soup
4 sausages (400g appx)- any flavour
1/2 large onion, chopped
2 cloves garlic, minced
1/8 tsp ground sage
1/4 tsp marjoram
1/4 tsp oregano
1/8 tsp ground savory
1/2 tsp salt
1/4 tsp pepper
1/4 tsp ground cayenne
1/8 tsp ground cloves
1 box of chicken broth, 900ml
1 large can of pumpkin puree (NOT PUMPKIN PIE FILLING), appx 2 1/2 – 3 cups
2/3 cup heavy cream
DIRECTIONS
Heat oven to 250°F. Line two baking sheets with parchment paper, set aside.
Tear the kale leaves into just-larger than bite-sized pieces and toss with a drizzle of olive oil, massaging it onto all the pieces. Lay out on the baking sheets in a single layer. Sprinkle with salt and cayenne pepper.
Bake the kale chips for 10 minutes, flip and bake for another 10 minutes. Turn off the oven and let the chips sit while you make the soup.
Slice the sausages into bite-sized chunks. In a large pot over medium-high heat, brown the sausages with a drizzle of olive oil.
When browned, add the chopped onions, minced garlic, and spices. Stir well to coat everything in spice. Cook over medium heat until the onions are translucent and the garlic and spices are fragrant.
The bottom of your pot may have a fair bit of browning bits, add a splash of the chicken stock to deglaze, and scrap off all that flavourful goodness.
Add the pumpkin and the remainder of the chicken broth. Stir to combine.
Cover and let simmer for 20 minutes over medium heat.
Stir in the heavy cream and allow to simmer, uncovered for another 20 minutes.
Taste and add additional salt, pepper, and spices as needed.
Serve with a dollop of sour cream and kale chips. Top with a sprinkling of cayenne for an extra kick if needed.