Oh Vancouver and your fickle weather. Our summer seemed over a couple weeks ago as it started to cool off and the days became, almost suddenly, shorter. The fall feeling of sloth and the need to hunker down all cozy-like washed over me and while I was sad that we were losing our sunny mornings, I was happy for the coolness. THEN, well, then last week was a glorious burst of heat and sunshine again. I was caught unprepared because the mornings still felt like fall and I'd throw a sweater on to go to work, our office is cool, and then I'd leave the office in the evening and step out into a hot summer day.
But now we are back to fall. We are into day two of thick fog, though it only started in the afternoon yesterday. I like it, it is like a blanket over the city, tucking us in for a little nap. I mean, I am not going to like it come Monday when the fog-muted sun fails to wake me, but right now, on this quiet Sunday morning, I am digging it.
Looking back on summer, I am excited to share a childhood favourite of mine, that also happens to be an adult favourite too. The recipe was given to my mom by my wonderful Auntie Janice. She's shared a few recipes with us that I will be using on here eventually, because they are all incredibly tasty (including a Grape Salad and a cheese ball that I distinctly remember being awesome).  Quick segue, my Aunt Janice and my mom are in Florence right now! Which is unthinkably exciting. They are having a lovely time, I got to speak with my mom yesterday. They are great friends and I am so happy that they are on this adventure together.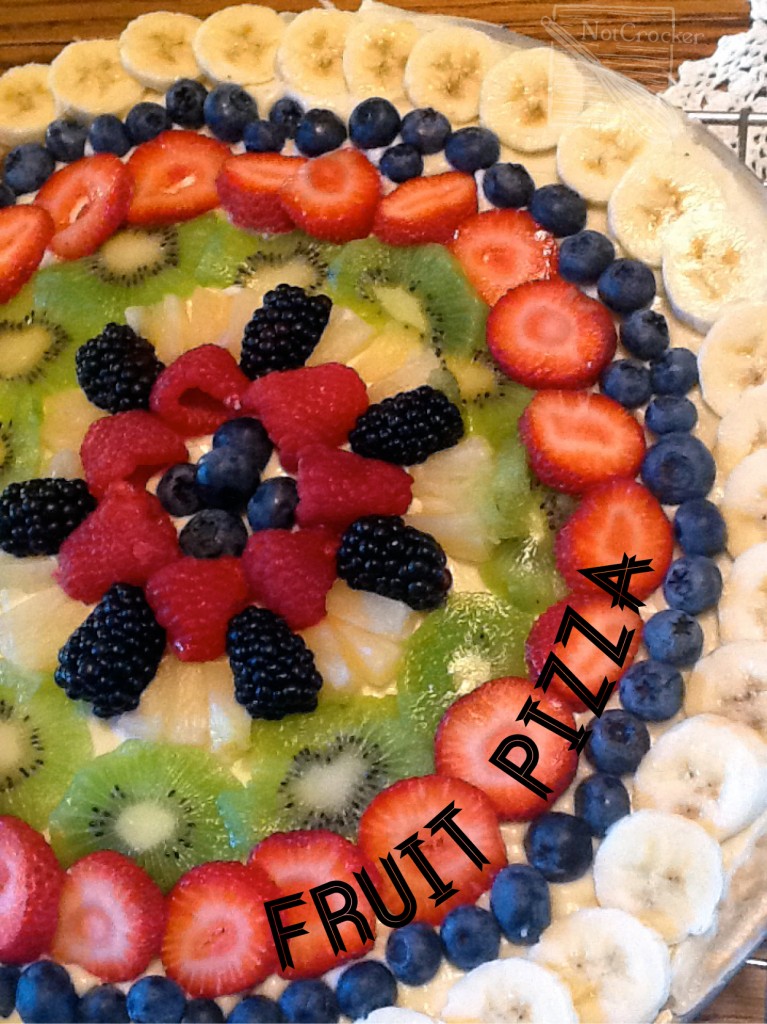 Anyway, these beautiful pizzas taste like summer, but can really reflect any season you want depending on the fruit you choose, though I suspect pumpkin would be out of place here for fall. My mom and I made these for the dinner party we hosted when I was home. A refreshing blast from the past, these fruit pizzas with their shortbread-like crust, and cream cheese base are a nostalgic treat. I suggested that we make with a chocolate base but mom balked at that, so I will have to experiment independently, though she is usually right. I am sure you can tell, looking at the photos, which pizza was created by my mom with her practiced hands, and which was made by me… don't be coy, her lines are perfect and I had to fill in all my extra spaces with berries. It's alright, I know. The photos aren't the best, as I took them on my mom's iPad, but the pizzas speak for themselves.
Get on top of making this. It is a really impressive dessert to bring to a dinner party, and aside from the meticulous fruit placing, it is incredibly easy. Topped with a glaze and refrigerated, these pizzas slice well, though will need to be eaten on a plate with a fork.
Fruit Pizza
The difficult thing with this recipe is prescribing fruits to use. It is really up to you, but berries are easy to arrange and alternate in colour (my mom will not allow two rows to be the same). Pineapple tidbits look nice and the juice can be used for glaze. If you rinse your berries and fruit, dry them well so they don't make the crust soggy. We just eyeball how much fruit we will need, but remember it is better to have too much than too little, and if you have two few of one type of fruit, make it is a centre circle, and use the fruit you have more of as an outer circle.
INGREDIENTS
Crust
1/2 cup butter
1/4 cup icing sugar
1 cup flour
Cream Cheese Base
8 oz. pack cream cheese
1/2 cup sugar
1 tsp vanilla
Fruit
Berries (recommended)
Melons, sliced
Stone fruit
1 can pineapple tidbits (recommended)
Glaze
2 tbsp. cornstarch
1 cup pineapple juice or other juice
1/2 cup sugar
1 tsp lemon juice
DIRECTIONS
Heat oven to 350°F. Grab a pizza pan and set aside.
In a large bowl mix together the crust ingredients until it resembles a coarse meal. Press this mixture into the pizza pan to form a firm, even layer. Bake for 8-10 minutes, until just golden on parts. Set aside to allow to cool completely.
Cream together the cream cheese, sugar, and vanilla for the base. Spread this on the cooled crust.
Arrange fruit of your choice over the cream cheese base.
In a small pot combine the glaze ingredients, and cook over medium heat until it has thickened, allow to cool before spreading over your fruit.
Chill the pizza for at least an hour before serving.
Slice, dazzle your friends, and devour.