I am sadly still sick but have found a medicine/oregano oil/water regime that has kept me functional. The weather in Vancouver is insanely gorgeous and I've been really enjoying my walks too and from work, looking forward to when I am feeling well enough to start tackling Stanley Park and the beaches. I hope all of you are getting the sun you need and want! I am really looking forward to a quick trip north we are planning for the first week of August. We are going to do some camping and some fishing and deck-drinking with mom and Chloe, I am really looking forward to it! I also got an awesome bunch of plants to brighten up our apartment! On my way home from work I often pass Heather's The Flower Shop and yesterday I was forced to slow down in front of the store by a group of pokey tourists. I took a glance at the offerings and saw an incredible number of gorgeous little cacti. I ended up getting a cactus and aloe plant. The owner (not named Heather I believe) was so fantastic, gave me thorough advice on keeping them alive and then gifted me a gorgeous basil plant! I am so thrilled to have basil again and I am determined to keep my basil living straight through the winter… I hope!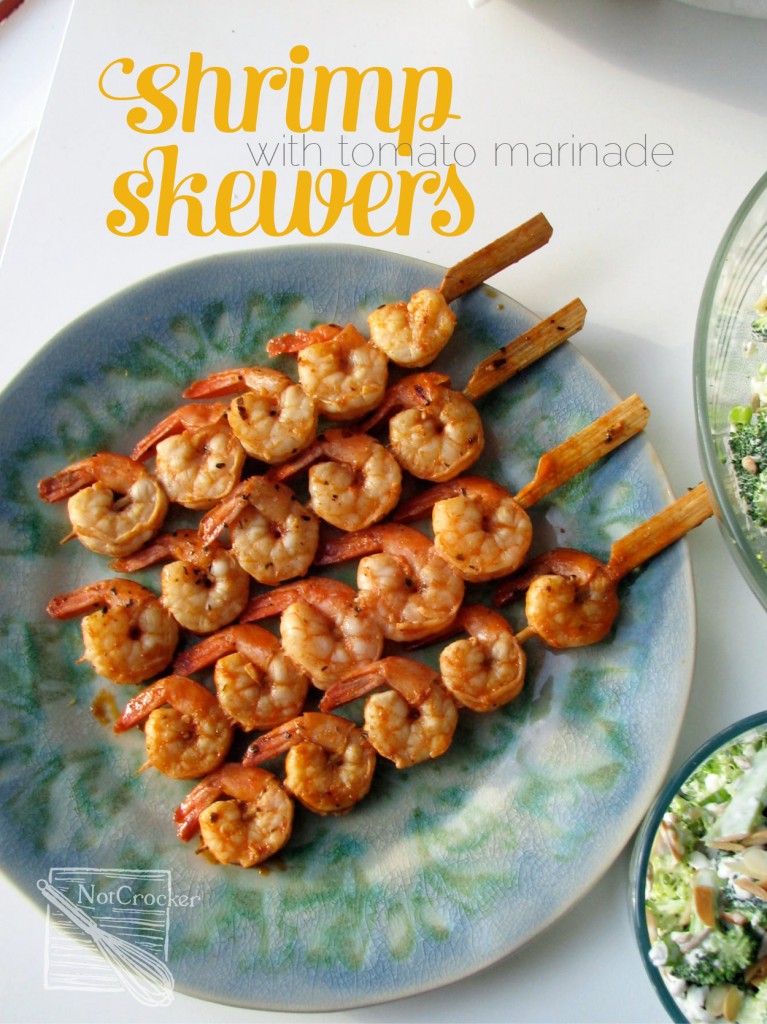 I don't think shrimp are particularly seasonal but I tend to only really want them in the summer. Easy and quick, grilled shrimp pair well with fresh salads, or even as a side for a steak. This recipe is super easy and tasty. You can amp up the spice levels to suite your palate, and definitely add some fresh dill if you have it on hand, I sadly don't!
Shrimp Skewers
INGREDIENTS
1/4 cup olive oil
1/4 cup plain tomato sauce
2 tbsp apple cider vinegar
2 cloves garlic, minced
1 tsp dried basil (highly recommend using fresh, I hadn't gotten my plant yet. If using fresh, use 1 tbsp, finely chopped)
1 tsp fresh dill, finely chopped (*optional)
pinch of coarse salt
pinch of black pepper
1/4 tsp chipotle chili powder
1/4 tsp cayenne pepper
1/2 lb fresh, peeled shrimp (about 20)
4 wooden skewers
DIRECTIONS
In a large ziploc bag combine all ingredients (except shrimp and skewers…) and mash together.
Add the shrimp and toss in the bag to coat. Refrigerate for at least an hour. While the shrimp is marinating, soak your skewers in water.
When you are ready to cook, skewer shrimp (mine were pre-skewered) and cook on a hot grill for 3-5 minutes per side until opaque. Discard marinade.