One thing I love about coming home from trips is seeing what kind of organizational innovations Gen has achieved in my absence. This trip I came back to my knives standing on-end inside a pitcher, the cutlery mixed in the holder (rather than divided), and all the pots stacked on the stove, clean but not put away. He did buy a Costco pack of new tupperware, which I am thrilled about, so that's good! And really, the kitchen took just a few minutes to straighten out, I really kind of like my kitchen roulette.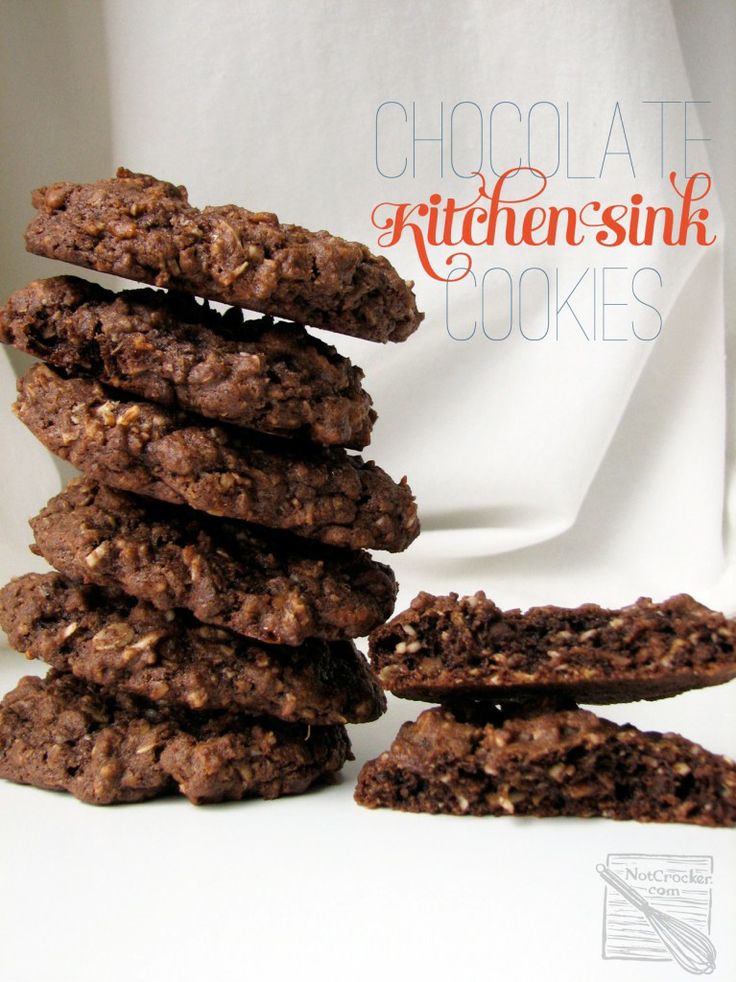 I think "kitchen sink" is a weird way to say that these cookies have a lot in them, but it works… "everything except the kitchen sink." I literally took what I had on hand and mixed it into this crunchy, chewy, chocolatey cookie. I would have LOVED to have had some nuts and corn flakes on hand, so I definitely recommend that you mix those items in to this recipe if you have them. Again, feel free to switch in and out whatever you have nearby (crushed pretzels, craisins, seeds, etc. would be great too). Don't fear an interesting cookie!
Chocolate Kitchen Sink Cookies
INGREDIENTS
1 cup butter, softened

1 cup white sugar

1 cup brown sugar, lightly packed

2 tsp vanilla
2 eggs
2 cups all-purpose flour
3/4 cocoa powder
2 cups rolled oats

1 tsp baking soda

1 tsp baking powder

1 tsp cinnamon

1 tsp cardamom

1/2 tsp coarse salt

3/4 cup shredded coconut (sweetened or unsweetened)

1 1/2 cup of flaked coconut, toasted (place on cookie sheet in 400°F oven for 5-10 minutes until lightly browned)
1/4 cup Skor bits
1/2 cup mini dark chocolate chips
DIRECTIONS
Heat oven to 350°F. Line two baking sheets with parchment paper and set aside.

In a large bowl, cream together the butter and both sugars until fluffy and light.
Add eggs and vanilla and mix until well combined.
Add the flour, cocoa, oats, baking soda, baking powder, salt and spices. Mix until just combined.
Add in your kitchen sink ingredients (recommendations: coconut, chopped nuts, cereal, chocolate chips, chopped pretzels, raisins, craisins,etc.) in combination of no more than 3 cups.

Spoon your cookies onto the prepared baking sheets. Bake for 10-15 minutes until set in the middle. Cool on a wire rack.

Serve warm or cold for a delicious treat any time!