Well we've had summery, lovely weather for the past few weeks. Yesterday afternoon the weather broke and we are slated for a rather drizzly week to come, but I am alright with that. The intermittent rain is just one thing I love about Vancouver; cool days to break up the hot ones is my favourite kind of summer!
Lots has happened in this last week. First, I found out that I've been chosen for a wonderful graduate award (that I am not sure if I am allowed to formally announce yet). They are flying myself and the other recipients to Toronto in the middle of June to attend a Board of Director's dinner. I need to write a 5-minute speech to say at the dinner and a bio about myself in case my story is picked up by media, crazy! Anyway, I have been so fortunate to have such wonderful references for opportunities like this, as well as the job opportunities that have come about, so I definitely have to thank my wonderful former-boss and friend, Johanne, my internship supervisor, Lindsay, and my lovely and talented best friend, Caelin!
Also, I've been in straight-panic mode lately about our impending move from our amazing apartment. When I sent in our second year's worth of cheques last year sometime, our landlord had told us that they'd like to retake the place in September of 2013. We were sad about the date but were so thankful to get to live in this wonderful spot for two whole years. Anyway, this whole week I've been determined to find us a great place so that we can move this summer instead of having to hustle out of here last minute in the fall. On a whim, a whim that my mother suggested, I emailed Marta (our wonderful landlady) to confirm that they were still needing the place for the fall. WELL, I'll be damned if she didn't email me back to say that we could stay for another year. HUZZAH! We are so love this location, the apartment, and now we are getting to know our neighbours. And, to make things better, she mentioned that they'd like to swap out the carpet for laminate (this carpet is terrible!). So, things are great. My husband said, when I called him about the apartment, "We are so lucky, well no(thinking of my dad), but this is one great thing."
These are bribery cookies. No, donation-solicitation cookies. No, donation-encouraging cookies. Okay, so they are cookies that will sit beside a sign that tells the story of my dad, his battle, our loss, and the Spring Sprint that is yet to come. We are in the last leg of our fundraising campaign and I'd love to top out our fundraising at $5000 (we are at $3,500). So, I am bringing cookies into work and into trivia to encourage people to either donate-to or join our cause.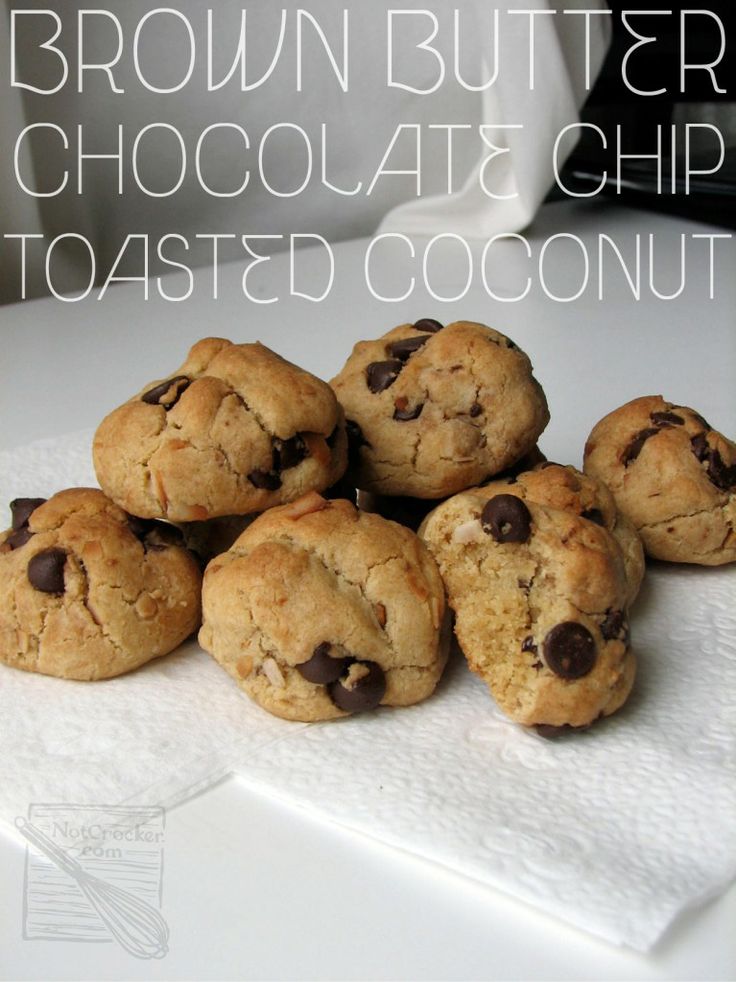 These cookies are tender, buttery, and so good. I am finally learning my lesson about coconut flour, in that it will cause your cookies to maintain their shape… So, if you want flat, normal-looking cookies, use all regular flour (1:1). Also, if you only have regular flour, that's fine, just don't be surprized when your cookies flatten properly and don't stay like little balls.
The brown butter in these cookies make them almost caramelly in flavour, paired with the dark chocolate chips and toasted coconut, you've got an adult cookie that all will love. I've done Brown Butter Chocolate Chip Cookies before, but these are completely different, worth a fresh batch!
Brown Butter Chocolate Chip Toasted Coconut Cookies
INGREDIENTS
1 cup butter

3/4 cup white sugar

1 cup brown sugar

2 eggs

1 tbsp pure vanilla extract

2 cups all-purpose flour

1/2 cup coconut flour (or use another 1/2 cup of all-purpose)

3/4 tsp baking soda

1/2 tsp coarse salt

1/4 cup toasted flaked coconut (in a pan on your stovetop over medium heat, toast the coconut for 5-10 minutes, stirring often until evenly browned. Remove to a bowl to cool.)

1 cup dark chocolate chips
DIRECTIONS
Heat oven to 350°F. Line two baking sheets with parchment paper and set aside.
In a small pot heat the butter and allow to brown. When the butter is nicely browned, pour it immediately into a heat-safe bowl to cool/stop the cooking process. If you are wary of browning butter, check out my now super-old tutorial here.
In a large bowl stir together the two sugars. Add the brown butter and stir until well-combined.
Add the vanilla and eggs. Beat to combine, the mixture will lighten and become very smooth.
Add the baking soda, salt, and half of the flour(s), mix to combine. Add the remaining flour and mix until just combined.
Stir in the toasted coconut and chocolate chips. You might find that the add-in sink to the bottom, try your best to fold them in, or just make a concerted effort to incorporate them as you are rolling your cookies.
Roll the cookies into 1-inch balls and line up on the baking sheets. If you want a more traditionally-shaped cookie, press down to lightly flatten each ball.
Bake for 10-15 minutes until lightly golden.
Allow to cool on a wire rack.