Well, I've officially completed my second week at the NFB. I am still doing a lot of learning but have had the chance to get my toes wet with some contracts, so that's been fun. While I am really excited about my position, I would love to get a chance to work on the creative side, there are a lot of things tossed around that I would love to get my hands on. Anyway, things have been going well, aside from the fact that I had a ridiculous tumble on Monday that left my knee in a bit of a mess. I was walking across the street towards a corner-crazy (hanging out, yelling at traffic). I was wearing my newish boots that were still a little slippery on the edges and right when the man asked me "How far are you going?" I slipped my right leg under my left and came down hard on my left knee. I got up quickly and hustled it down the street, trying to ignore the searing pain. Fortunately, I didn't do any lasting damage, just a small lump, significant bruises, and some really impressive scrapes. I was pretty thrilled though that my new jeans were no worse for the wear.
In any case, I am fully ready for summer, I have a few new pairs of capris, a new pair of sandals, and the deep desire for a tan. Sadly, as with the rest of Canada, we've been having a second winter of sorts. Fortunately, we are in the paradise of Canada and our second winter consists of drizzly days rather than snow drifts. In an attempt to bring about some sunshine I baked up some lemon poppy seed loaves! I am not usually a fan of citrus desserts—my many, many recipes show a trend towards chocolate—but I've been craving a little brightness. And, wouldn't you believe it, THE SUN CAME OUT! Seriously, I whipped this loaf up on Tuesday night, brought it in on Wednesday to work and the sun raged straight through Wednesday afternoon through Thursday night!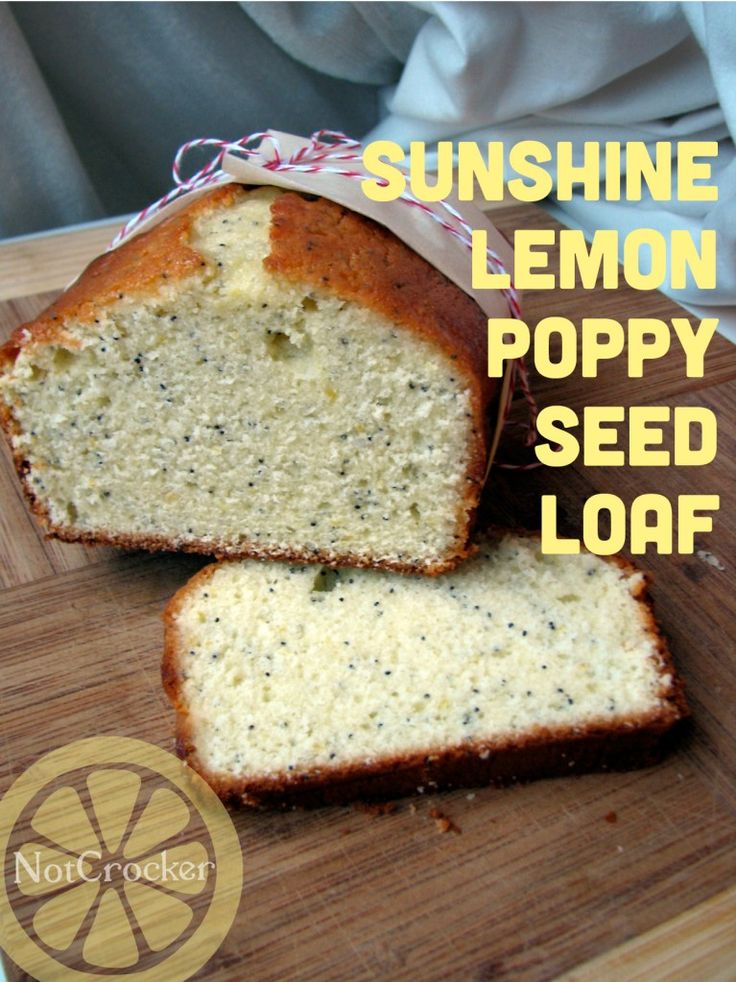 I am fairly convinced now that I have magical baking powers. I meant to make some lemon poppy seed scones (with bright cream cheese icing… check back soon!) tonight but got caught up in other things, so clearly there wont be sunshine this weekend. Maybe I will make them on Sunday to get a little sunshine going. In any case, this loaf/cake was fantastic. It comes together quickly and the glaze brightens up the flavour to a whole other layer! Enjoy a slice with a pat of butter and some tea!
Sunshine Lemon Poppy Seed Loaf
Adapted from Baking with Julia
INGREDIENTS (recipe for one loaf)
4 eggs, room temperature

1 cup sugar

pinch of salt

zest of 3 lemons, grated

1 tbsp poppy seeds

1 tsp vanilla
1 3/4 cup all-purpose flour
1 1/2 tbsp corn starch

½ tsp baking powder

½ cup whipping cream

1/2 cup butter, melted then brought to room temperature
Glaze
1 cup icing sugar

1/4 cup of fresh lemon juice (two of the lemons should do the trick!)
DIRECTIONS
Heat the oven to 350°F and line a loaf pan (I have no idea the size of mine… standard?) with parchment paper, carefully folding the end to prevent a wonky loaf. 

 I

n a large bowl, whisk together the eggs, sugar, and salt until just foamy. Whisk in the lemon zest, poppy seeds, and vanilla.

Whisk together the flour, corn starch, and baking powder. Whisk half of the flour mixture into the egg mixture until fully incorporated. Add the second half of the flour mixture and whisk to combine.

Fold in the whipping cream and then the butter.

 

Pour the batter into the prepared pan and bake for 45-55 minutes, or until deep golden and cracked on top. To be sure, insert a toothpick into the centre, if it comes out clean, you are good to go!

Cool the cake in the pan on a rack. While cooling, prepare the glaze.
In a small pot, stir together the lemon juice and icing sugar. Cook over medium-low heat for 10 minutes, or until the sugar has dissolved and the syrup becomes less opaque.

Remove the loaf from the pan and place directly on the rack (throw some wax paper under the rack to catch the glaze. Poke some holes in the top of your loaf and spoon the glaze over, allowing it some time to work its way into any nooks and crannies, as well as drip down the sides. Use all of the glaze!



Slice and serve with butter and tea! Seal it up tight afterwards so that it doesn't dry out!