First thing's first. I just received my fourth wedding invitation for this year. I know I am coming to the age where everyone I know is getting married but I never expected to have four weddings for eight wonderful people just this year! I can't believe it! The problem is that Genesis and I are under or straight-up unemployed. We have my cousin's wedding in April, my childhood friend Helen's in June in the Yukon, my dearest friend Katie's wedding in Banff in July, and my high-school twin is getting married to her long-time amazing partner in August in Saskatoon. I wish I could attend them all, but that would require one of us to be on Air Canada's payroll. Alas, we will figure it out, but I am fairly sure I am going to miss a few important events this year.
Anyway, on this beautiful sunny day I decided to make some hearty chili and a really tasty jalapeño almond bread that has all the characteristics of cornbread but with a bit more texture. The meal was super filling and I know it would satisfy even the most carby of carb lovers. I munched down a ton of the chili and happily munched on the almond bread between/with bites. I am going to experiment with a few different versions of this because it came out so beautifully. I suspect I could make a sweeter version of it that uses cream cheese and some cinnamon, maybe even a swirl of chocolate. Hmm weekend-testing ideas!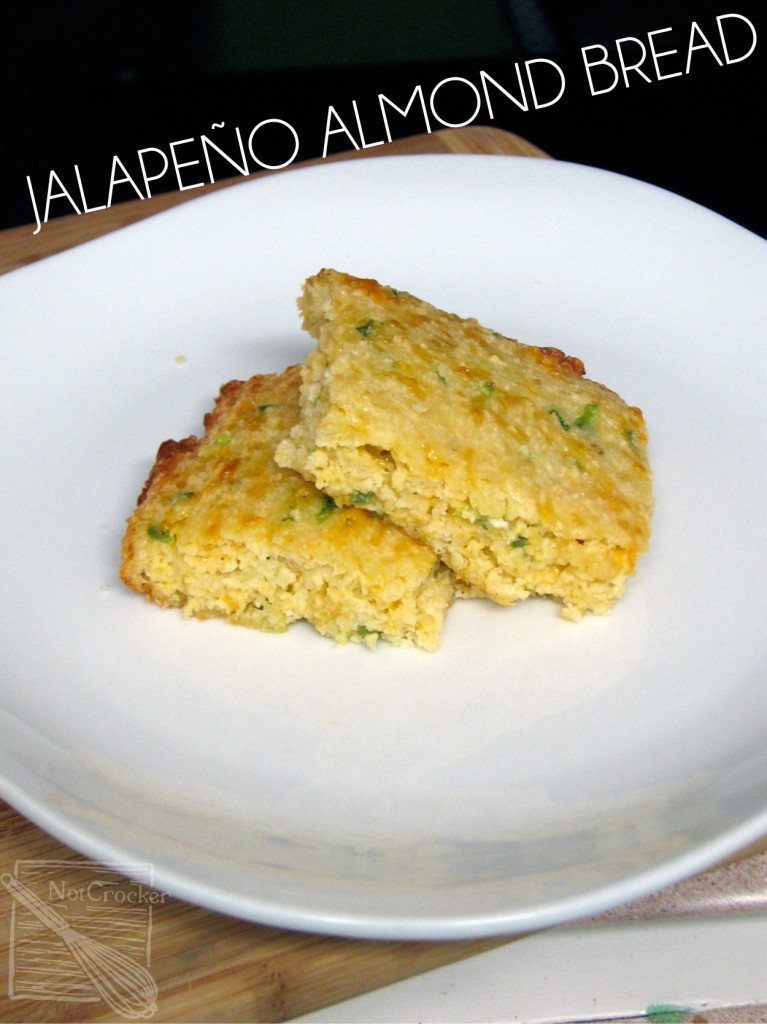 Give it a try and let me know if you make any tweaks. Feel free to add or reduce the number of jalapeños as needed, I would've been happy with another one in there because at this time in the season, jalapeños are on the mild side. If you are not a fan of the spice, sub in a few chopped green onions, some finely chopped red peppers, or even some diced ham!
Jalapeño Almond Bread
Recipe very lightly adapted from Reddit user grossitsrachel (who I can only assume is not actually gross)
INGREDIENTS
2 cups almond flour
2 cup cheddar cheese, shredded
2 jalapeños, finely diced
1 1/2 tsp baking powder
1/2 tsp salt
3 large eggs
1/2 cup sour cream
1/4 cup butter, melted
DIRECTIONS
Heat your oven to 350°F. Grease a 9- x 13-inch glass baking dish. You can also halve the recipe and prepare an 8- x 8-inch baking dish.

In a large bowl toss together the cheese, almond flour, jalapeños, baking powder, and salt.
In another bowl whisk together the wet ingredients.
Add the wet ingredients to the dry, stirring until well combined.
Pour (or glob) the batter into the baking dish, spreading evenly.
Bake for 20-25 minutes, until the edges begin to brown.
Allow to cool for a couple minutes before cutting and serving.